At Capacity
HHF Creative Careers Other
Sold Out
MonTueWedThuFriSatSun
HHF Creative Careers is a five-month cohort-based career development program designed for skaters age 18-30. Through weekly programming that rotates between individualized mentorship, professional development workshops, skate sessions, and career panels, we hope to create future pathways and tangible outcomes for skaters.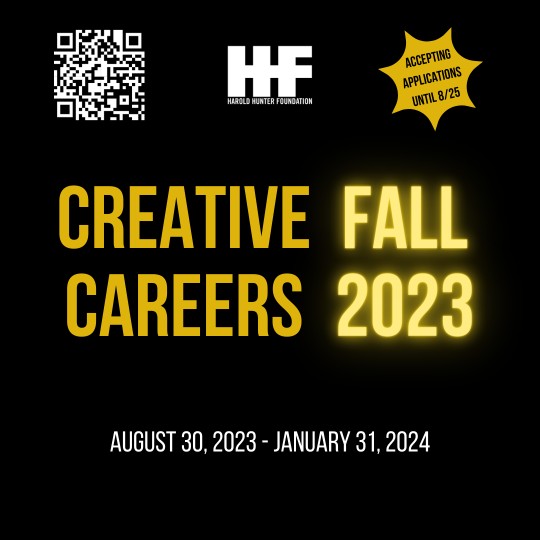 Congratulations to the Fall 2023 cohort of the HHF Creative Careers Program!

Time Commitment:Time Commitment
​Students must be able to attend at least 2 of the 3 the Career Panels, which will take place on Wednesdays 9/27, 10/25, and 11/29 from 5:00-8:00PM. We also expect students to participate in monthly mentorship sessions and workforce readiness workshops. Last but not least, all participants are required to contribute to the collaborative multimedia exhibition in January 2024, whether through art, performance, production assistance, curation, etc. Group skate sessions are optional, but encouraged!

Upcoming Dates & Deadlines

Program Orientation #1: Wednesday September 6th 5:00-7:00PM in-person at HHF HQ (297 East 10th Street)
Dazed x Arnette NYFW Skate Jam: Sunday September 10th 4:00-9:00PM in-person at Seret Studios (79 West St, Brooklyn, NY 11222)


Workshop #1 "Start With Why": Wednesday September 13th 5:00-7:00 in-person at HHF HQ

"Better Days" Block Party with Adidas and Woodstack: Saturday September 16th 12:00-6:00PM in-person at Betsy Head Skatepark (Betsy Head Park, Dumont Ave, Brooklyn, NY 11212)




Check out the full Creative Careers program schedule HERE!